Naomi Jean Metcalf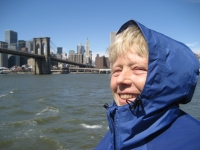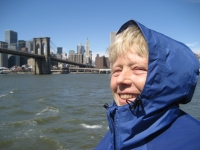 August 31, 1939 - May 04, 2009
Mother-Adventurer-Free Spirit
On Monday May 4th, 2009, Naomi Jean Metcalf passed away after a four-year struggle with cancer. She was born in Uniontown, Pennsylvania. on August 31, 1939 to Jim and Della Metcalf. She grew up in Tallmadge, Ohio and then had a career as an English teacher and librarian for several school districts.
Although she very much loved her family and friends and many aspects of Ohio, it was a little too flat for her. She had a nagging dream to some day live out West backpacking or motorcycling through mountain ranges and deserts. Being the fantastic mother she was, she first raised her sons, but while doing so managed to find adventure by hiking the White Mountains in New Hampshire many times, getting out on the road and exploring (what seemed to us to be every nook and crannie of) America, and going to Europe several times. Upon retirement, she made the move to be "out West" and began enjoying the beauty and the spirit of mountains, rivers, the ocean, and the open road.
Near the beginning of her 15 years in Seattle, she finally got her first motorcycle and fell in love with riding, logging 6 cross-country motorcycle trips, two tours of Mexico, a tour of Australia, a tour of New Zealand, and several trips to Alaska. All this in addition to riding just about every road in Washington. She really had a zest for getting out there and seeing what was around the next switchback or bend in the road, meeting and talking to new people, and learning new things.
She was a feisty, ornery, funny, smart, and an extremely generous person who made us proud by being so unique, independent, and strong. She instilled in us her love and appreciation for nature, and the connected spirituality and personal growth that comes from always getting out there and exploring what's beyond the next turn.
She is survived by her two sons, Dean Connolly and Dave Connolly of Seattle, Washington, her two brothers, Gary Metcalf of Wadsworth, Ohio and Fred Metcalf of Tallmadge, Ohio and many cousins, nieces, nephews and friends from the East to the West coast.
FUNERAL INFORMATION
OHIO - A service will be held at the Tallmadge Cemetary at 11:00 a.m. on Tuesday May 19th. A celebration of Naomi Jean's life will begin afterwards at 12:00 p.m. at the Tallmadge Lions Club - 245 Northeast Avenue (330.633.5739). Please come share stories and thoughts about Naomi, as well as some food with all who knew and loved her."
DONATIONS
In honor of Naomi's memory, in lieu of flowers, contributions may be made to a breast cancer foundation of your choice.
Memorial
From "Song of the Open Road"
by Walt Whitman
I think heroic deeds were all conceiv'd in the open air, and all free
poems also,
I think I could stop here myself and do miracles,
I think whatever I shall meet on the road I shall like, and whoever
beholds me shall like me,
I think whoever I see must be happy.
From this hour I ordain myself loos'd of limits and imaginary lines,
Going where I list, my own master total and absolute,
Listening to others, considering well what they say,
Pausing, searching, receiving, contemplating,
Gently, but with undeniable will, divesting myself of the holds that
would hold me.