Sue Casey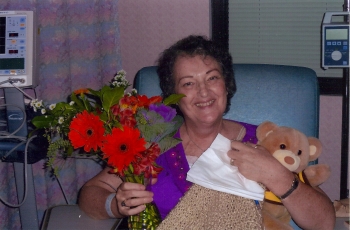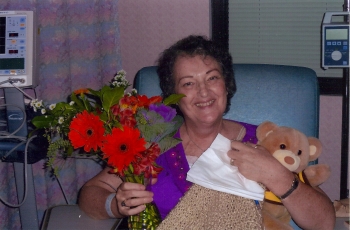 May 08, 1948 - May 16, 2011
The Huggler
Born and raised in Seattle in Beacon Hill with parents Bill and Beulah Watson and four younger siblings Jim, Denny, Bill, and Patty.
She graduated from Cleveland High School in 1966 and attended Central Washington University to get her teaching certificate.
After getting laid-off from her first teaching position at what she called "Bodunk" town of McClearly, she pursued a job offer at the Port of Seattle in 1972. She got the job after passing the typing test with flying colors. Within the course of 10 years at the Port of Seattle she worked her way up from assistant, to employment interviewer, to manager of the department in Human Resources, while earning a BA in Language Arts. In that 10 year span she received a 10 year service award from the executive Director of the Port of Seattle.
She went on to retiring as Director of Human Resources in 2000 and began her life-long/fulltime career as a wife on February 17, 1990 when she married husband of 21 years, Jerry Casey and became mother of two when Shannon and Ian were born in 1990 and 1995.
Who was Sue, Really…?
• "Worry wart" • Kind and compassionate • "Bargain hunter" • (Brutally) honest • The "huggler" • CHOCO-holic • Elvis fan • The ORIGINAL "grammar Queen" • Loved the swing ride and scrambler • "The Cowboy" (Jerry Andle) fan • The Traveler • City girl • "Go-getter" • "I know how to swim…I just can't do it" • Does anything for anybody • Loved to dance with dad • Best: friend, mom, aunt, wife • Wise • Great pep-talker • No-nonsense • Socializer • "hand-talker" • Fair and understanding • Translator (when someone must know what she wrote) • Editor of all school papers and projects • "Are you really gonna wear that?" fashion critic • Enthusiastic • Supported: Research and fundraisers for Type 1 Diabetes, ADHD, and cancer
FUNERAL INFORMATION
A celebration of Sue's life will be held at 2:30 PM on Saturday, May 28, 2011 at Trinity Lutheran Church in Lynnwood. Sue would not have wanted you to wear black, (or yellow,) but blue was her favorite color.
DONATIONS
All expressions of condolence are welcome. Memorial contributions in Sue's honor can be made to the Juvenile Diabetes Research Foundation or the cancer research organization of the your choice.
Phenomenal Woman
Pretty women wonder where my secret lies.
I'm not cute or built to suit a fashion model's size
But when I start to tell them,
They think I'm telling lies.
I say,
It's in the reach of my arms
The span of my hips,
The stride of my step,
The curl of my lips.
I'm a woman
Phenomenally.
Phenomenal woman,
That's me.
I walk into a room
Just as cool as you please,
And to a man,
The fellows stand or
Fall down on their knees.
Then they swarm around me,
A hive of honey bees.
I say,
It's the fire in my eyes,
And the flash of my teeth,
The swing in my waist,
And the joy in my feet.
I'm a woman
Phenomenally.
Phenomenal woman,
That's me.
Men themselves have wondered
What they see in me.
They try so much
But they can't touch
My inner mystery.
When I try to show them
They say they still can't see.
I say,
It's in the arch of my back,
The sun of my smile,
The ride of my breasts,
The grace of my style.
I'm a woman
Phenomenally.
Phenomenal woman,
That's me.
Now you understand
Just why my head's not bowed.
I don't shout or jump about
Or have to talk real loud.
When you see me passing
It ought to make you proud.
I say,
It's in the click of my heels,
The bend of my hair,
the palm of my hand,
The need of my care,
'Cause I'm a woman
Phenomenally.
Phenomenal woman,
That's me.
Love lives on forever in each memory and thought
Of those who've shared our lives
and all the happiness they've brought
Love lives on forever--it will never fade away--
for, in our hearts our loved ones
are with us every day
Maya Angelou
Do Not Stand at My Grave and Weep
Do not stand at my grave and weep,
I am not there, I did not sleep.
I am a thousand winds that blow,
I am the diamond glints on snow.
I am the sunlight on ripened grain.
I am the gentle autumn rain.
When you awaken in the morning's hush,
I am the swift uplifting rush
Of quiet birds in circled flight.
I am the soft stars that shine at night.
Do not stand at my grave and cry;
I am not there, I did not die.
- Mary Elizabeth Frye