Kathleen Phyllis Knowlton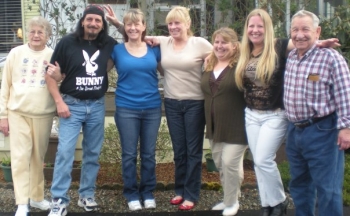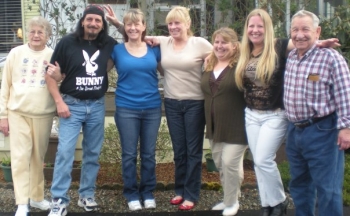 December 03, 1930 - May 29, 2010
In Loving Memory
Kay was a loving Wife, Mother, Grandmother, Great-Grandmother & friend to so many who will miss her greatly.
Kathleen (Kay) Knowlton (79) of Arlington, Washington passed away on May 29, 2010, with her family at her side at her home in Arlington, Washington. Kay was born in Seattle, Washington on December 3, 1930 to Paul and Beverly LeStrange who preceded her in death along with her two sisters Pamela Vannoy and Joellyn Caulkins and baby brother Jerry. Kay was a Breast and Lung cancer survivor.
Kay is survived by her husband & best friend of 57 years Rodney Knowlton, her 5 children, Teresa Lynn Zanella (Jean-Georges), Kelly-Rae Hajek (Cam Perry), son Michael (Patty), Dava Mitchell (Michael), & Mary Broyles (Jack) and 16 Grandchildren & 2 great-grandchildren. Her brother Edward Shamek & his family of Goldendale, WA, and many loving cousins also survive her.
Kay loved to travel, but she was afraid of flying so she stuck with her truck and camper that she loved dearly. Kay and Rod camped a lot, but she also went on many trips with her children one at a time to many special places. She loved playing bingo for many years but when she tried the slots...well...that was it! Copper Droppers was her favorite! Back in the 70's Kay won $5670.00 on Keno using her children's birth dates! We still have the picture she took of all the money laid out on the bed. She enjoyed the birds that would come by her feeders and could name all of the local ones & many others. Along with her sister Pam she researched the family genealogy and enjoyed exchanging letters and emails with distant relatives. During the last year she became very active on Facebook & enjoyed playing Farmville with her many friends from all generations. It was a great way for her to keep in touch with family, friends and grandchildren. She was so proud when she told us her grandson Joe made comment on her page that she was "the most computer savvy grandma out there!"
Most of all she loved her family & was so accepting of all who joined it. She will be greatly missed by many and the memory of her strong wit and sense of humor will last forever in our hearts. Kay will be cremated in accordance with her wishes and a family celebration of her life will take place later this summer at a location dear to her heart.
Thank you from all of the family to Providence Hospice & Home Care of Snohomish County and the Marysville Fire Department that helped and guided us though her last hours of need.
Memorial
Remember Me
Do not stand by my bed and weep.
I am not there, I do not sleep.
I cannot speak, but I can listen.
I cannot be seen, but I can be heard.
So as you stand upon a shore gazing at a beautiful sea--
As you look upon a flower and admire its simplicity--
Remember Me.
I am a thousand winds that blow,
I am the diamond glints upon the snow.
I am the sunlight on ripened grain and
I am the gentle autumn rain.
Remember me in your heart.
Your thoughts, and your memories,
Of the times we loved,
The times we cried,
The times we fought,
The times we laughed.
For if you always think of me,
I will never have gone.
When you awaken in the morning's hush,
I am that swift uplifting rush,
Of quiet birds in circled flight.
I am the soft star that shines at night.
Do not stand by my bed and cry,
I am not there, I did not die