Emma Joy Friesen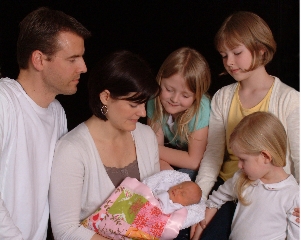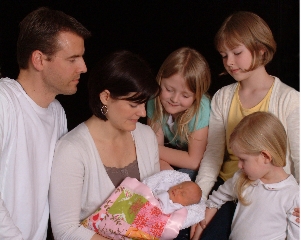 May 13, 2011 - May 30, 2011
This baby girl made a God-sized impact on our family, on all of us
Is. 55:8-11 – "For My thoughts are not your thoughts, Nor are your ways My ways," declares the LORD. "For as the heavens are higher than the earth, So are My ways higher than your ways and My thoughts than your thoughts. For as the rain and the snow come down from heaven, and do not return there without watering the earth and making it bear and sprout, and furnishing seed to the sower and bread to the eater; So will My word be which goes forth from My mouth; It will not return to Me empty, without accomplishing what I desire, and without succeeding in the matter for which I sent it." (read the whole chapter, you won't be sorry, esp. the end!)
As most of you know, our baby girl, Emma Joy, was taken home, to be with the Lord, on Monday of this week, at 1:50pm. The Lord blessed us with her life for 17 days, 44 minutes (May 13, 2011 – May 30, 2011). We asked, with as much humility and reverence as our proud and irreverent selves could muster, for 5 minutes of life – He gifted us with 24,524 minutes of her life (outside the womb), not to mention a full 9 months (and change) inside the womb. Her heart beat on this earth for nearly 10 months, and we are forever changed. Our God, the Maker of heaven and earth, saw fit to do the impossible, to overrule a medical tragedy with the gift of a beautiful, amazing life, and visit is, God with us, with His joy, His life, His touch, His mercy, His love, His tender care, His sustaining hand, His decision. And Monday, after accomplishing His purpose in the life of Emma Joy, He took her to be with Him, forever whole, complete, strong, fulfilled, free, God with her and she with Him. She's met the Savio(u)r, the Lover of her soul, who has transferred her into His eternal dwelling, to fulfill His eternal purpose for her.
In the life of Emma Joy, He has gifted us with a tangible representation of Himself, created in His image. He captivated us with her life, and she embedded herself into our hearts. We would not have it any other way (well, that's not true, we would rather she still be with us, that's the truth of our desires). We have an empty spot, perhaps because we were so filled, our capacity increased, and our new normal, though temporal, transformed our perspective as it transformed our family. We experienced life with Emma Joy, and those memories are burned on our senses, in our minds, on our hearts. Her smell is beautiful, and we seek it out in her blankets, hats, etc. Her small head nestled into my hand, and we all realized that she enjoyed that touch, and all of us spent time holding our hands on the top of her head. Her hands wouldn't open, yet I would wiggle my finger in there, and she would grip my finger, squeezing at times, if she was moving, if she was uncomfortable, perhaps to receive comfort. She loved to have her feet touched and rubbed, and she kind of melted when we would rub them. She was a quiet baby, with the occasional squawk when she was uncomfortable, or, perhaps, struggling, yet we managed to get some sweet video of her talking a little. Because her neck was weak, we held her in a unique way, and I can still see/feel her in my arms, my left arm holding her body, my right hand holding her head. We talked to her, prayed for her, sang to her, read to her (with the other girls), chatted with her in passing, cared for her, checked frequently on her (when not holding her), spent nights holding her, fed her, wrestled daily with the best ways in which to care for her body, studied her. Most of all, we loved her, and our love for her carries on. This baby girl, who started out at her heaviest weight of 4 lbs. 15 oz., made a God-sized impact on our family, on all of us, and we are so grateful.
"The LORD is my portion," says my soul, "Therefore I have hope in Him." (Lam 3:24)
Grateful to be alongside you, in Christ, Matt Friesen
FUNERAL INFORMATION
Join us Friday June 10th 1:00 - 4:00 for a celebration of Emma Joy's life being held at Eastridge Church, 24205 SE Issaquah-Fall City Rd. - Issaquah, WA 98029. A little girl's birthday party reception to honor Emma Joy will be held in the church immediately following the service. All are welcome and encouraged to attend.
DONATIONS
The Friesen family deeply appreciates the support and care they received from Providence Hospice of Seattle - Stepping Stones Pediatric Hospice program. Memorial contributions in Emma Joy's memory may be made to this valuable service and their mission.
Lamentations 3:24
"The LORD is my portion," says my soul, "Therefore I have hope in Him."
Isaiah 55:8-11
"For My thoughts are not your thoughts, Nor are your ways My ways," declares the LORD. "For as the heavens are higher than the earth, So are My ways higher than your ways and My thoughts than your thoughts. For as the rain and the snow come down from heaven, and do not return there without watering the earth and making it bear and sprout, and furnishing seed to the sower and bread to the eater; So will My word be which goes forth from My mouth; It will not return to Me empty, without accomplishing what I desire, and without succeeding in the matter for which I sent it."