What we call green burial today would have been known as traditional burial for all of human history up until the 20th century. In green burial, the deceased is not embalmed with toxic chemicals. Instead the body is either left in its natural state or embalmed with non-toxic, formaldehyde-free fluids. Only biodegradable materials are used, such as natural-fiber shrouds and caskets made of pine, wicker, bamboo, or paper. There is no concrete vault or liner placed around the casket so the body is in direct contact with the earth.
It is common for cemeteries to use a backhoe for digging the grave and a mechanical lowering device for committing the casket, but in some cemeteries the family can participate in these activities by helping to dig the grave and lowering the casket with canvas straps or ropes. Mourners can drop flowers or rose petals down into the open grave as a final tribute. The grave is then filled with a layer of leaves, grass, and flowers followed by compost and soil. Family and friends can take part with shovels as a ceremonial gesture. Families often select a natural object for a marker, such as a tree or native fieldstone. Some cemeteries will allow families to plant blossoming ground cover to make a small garden on the plot.
A Sacred Moment specializes in natural burials. If you are considering a green burial, our staff members are happy to give you a consultation—up to a half-hour free of charge by phone. Our staff can help you find the right green burial cemetery for your family and liaison with the cemetery staff; guide you through understanding green versus conventional burial; and help you choose from a selection of handmade shrouds and biodegradable caskets.
There are forms on this page that can get you started with planning a green burial for yourself or a loved one. You can also call us at (425) 316-8290 to discuss your "green" questions and needs.
Learn more about green burials through the eyes of Clark Wang, the passionate environmentalist in the documentary A Will for the Woods. A Sacred Moment had the privilege of working with directors Amy Browne and Jeremy Kaplan during the filming of this inspiring documentary.
Green Burial Cemeteries in Washington
The Green Burial Council certifies three categories of cemeteries offering green burial: hybrid, natural, and conservation burial grounds. Washington is blessed to have all three kinds of burial grounds.
Founded in 2009, The Meadow was the first certified natural burial ground in Washington state and is part of Moles Greenacres Memorial Park in Ferndale. Each natural burial adds to the restoration of The Meadow's native ecosystem. A "guild" of three harmonious native plants—a tree, a shrub, or groundcover—can be planted at the gravesite, in memory of the deceased. Engraved river rocks are also available for memorialization.
For more information, visit their website, call (866) 899-5534, or email greenacres@farewelltributes.com.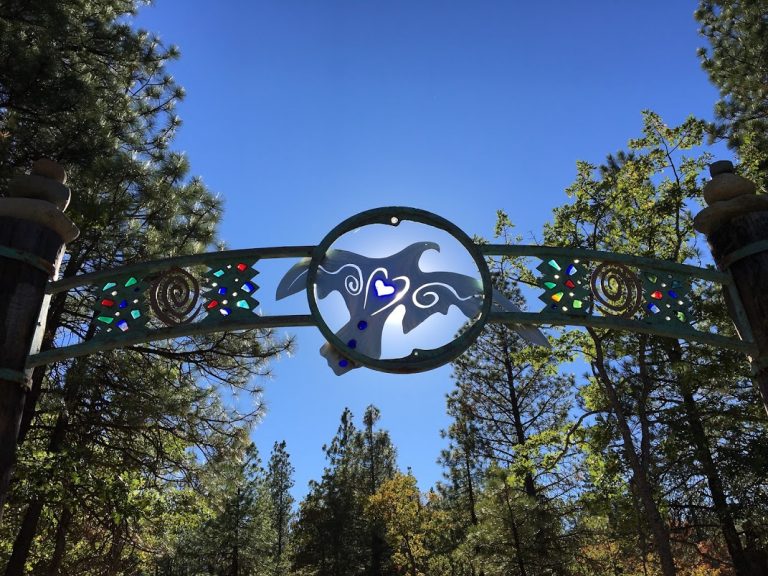 White Eagle is a certified conservation burial ground situated near the Columbia River Gorge National Scenic Area. Opened in 2008, its 20 acres are set within 1100 permanently protected acres of oaks, ponderosa pines, and meadow. It is the only wilderness cemetery in the country. Wildlife includes deer, eagles, and the occasional bear. Burial sites are spacious, about 20 by 20 feet, each comprising a little ecosystem. One can get acquainted with a site while still alive, in order to know what will be nourished after passing on. 
For more information and to arrange a tour, see their website or call (206) 383-3285.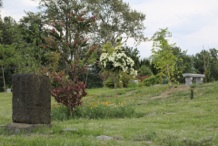 Woodlawn Cemetery was the first in Snohomish County to open a Green Section of their lovely cemetery in 2009. They are certified as a hybrid burial ground by the GBC and are committed to maintaining this area as "green." With each green burial, a family can select a tree to be donated and planted in the decedent's name near the grave.
For more information, go to their website, call (360) 568-5560, or email them.
Green Burials are now available at this historic cemetery ini Coupeville on Whidbey Island. Green burials, sometimes called natural burials, are allowed at the discretion of the sexton in all sections of the cemetery except cremation plots (spaces). The remains may be in a biodegradable cloth shroud. If any type of box (coffin) is used a concrete liner is required. The remains may not be embalmed. The grave for green burials must be at least four feet deep.
It is possible to have a green burial without a cement vault in some rural cemeteries in the state of Washington. These cemeteries are not GBC certified, but they are open to people who want a simpler, more natural burial.
For more information, please see their website or call (425) 885-2414.
Herland Forest natural burial cemetery is a non-profit ecological cemetery and Stewardship Forest in south-central Washington. Herland fosters the values of intergenerational ecological stewardship while providing families the platform to develop and practice hand-crafted ceremonies in a forest nourished by loved ones. Please note that this cemetery is not currently certified by the Green Burial Council.
For more information, go to their website, call (509) 630-6848, or visit them at 55 Windward Lane, Wahkiacus, WA 98670.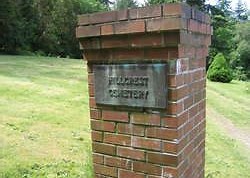 From soothing views to acres of nature, Hillcrest Cemetery on Bainbridge Island is a scenic place to be. With various options for burial, cremation, and memorialization for your loved one, Hillcrest will soon become your choice. Visit us to pay respects, celebrate life and enjoy the environment. Hillcrest is also a place dedicated to the environment with Green Burial options. It's a way to give back to the earth that gives us so much.
Arrange a green burial online
While making arrangements for a burial would be ideal in person, we understand circumstances may not allow a personal meeting to occur. We have made this online form available to you, as a way for us to support you during this stressful time and make the process of handling arrangements as easy as possible.
Please note that completing our online arrangement form does not inform us that a death has occurred. Please contact us by telephone if a death has occurred so we can make arrangements to bring your loved one into our care.
Upon completion of this form, a staff member will be in touch as soon as possible during regular business hours, Monday–Friday 9am–5pm. We will review any questions you may have, discuss the next steps in the process and make arrangements for payment.
Green Burial FAQs
There a number of reasons why green burials are becoming more popular. Reasons include concern for the environment; a wish to return to nature; respect for the human body; a need for authenticity; and honoring all religious beliefs. A natural burial makes a statement about what we held dear in life.
The Meadow, located in Green Acres Memorial Park in Ferndale, is a certified natural burial ground. Woodlawn Cemetery in Snohomish is a GBC certified hybrid ground, which means they have conventional and natural burial grounds. Washington also has the only wilderness cemetery in the country, the White Eagle Nature Preserve, which is a GBC conservation burial ground located near the Columbia River Gorge Scenic Area. In addition, some rural and pioneer cemeteries in Washington allow natural burial without a cement vault or liner.
Green burials can occur in any cemetery where a concrete vault or liner is not required by cemetery policy. Often rural and pioneer cemeteries do not require vaults or liners. Because of increasing demand, some conventional cemeteries are designating parts of their land for green burials. Call your local cemetery to ask if they are "hybrid-green" yet. The more they hear from the public, the more space will be offered that doesn't require a concrete vault or liner.
No. You may only legally bury a body on private property in Washington state if that property has been properly deeded as a cemetery. The requirements to do so includes a $25,000 deposit to a trust that is held, in perpetuity, for the upkeep and ongoing maintenance of the property.
Many other states allow for private landowners to bury their own dead on their land. Simply filing the latitude and longitude of the burial with the county official where the burial took place will suffice.
Yes. You can ask the cemetery to invert the vault. This allows the bottom of the grave to be exposed to the earth, while the top of the grave is concrete. This is a common request and "green" option, as several religious traditions already require the body to be buried in touch with the earth. We can assist you in reviewing other options with cemeteries requiring a vault.
Cloth shrouds made of natural fibers
Simple pine caskets without special finishes or varnish
Woven willow, sea grass, and bamboo caskets
Handmade wood caskets from local artisans
These products can be obtained from their makers through A Sacred Moment. As the green movement grows, more and more beautiful products are being created with biodegradable materials.
It depends on the cemetery. Some allow only natural objects as grave markers, such as a stone or tree, to minimize the environmental impact. Other cemeteries accept more conventional markers. Some cemeteries use GPS for families to locate unmarked graves.
Here are estimates of what's buried annually in the United States:
4.3 million gallons of embalming fluid—enough embalming fluid to fill six Olympic-sized swimming pools full of carcinogenic Formaldehyde
60,000 tons of steel from caskets
1.6 tons of reinforced concrete from grave vaults—enough concrete to build a two-lane highway from San Francisco to Kansas City
20-plus million feet of wood from caskets—77,000 trees
Source: Green Burial Council, 2013
This is an independent, tax-exempt, nonprofit organization working to encourage environmentally sustainable death care and the use of burial as a new means of protecting natural areas. The GBC established the world's first standards and eco-certification for burial grounds, funeral homes, and burial products.
A Sacred Moment is one of the GBC's approved funeral providers.
The cost of a green burial depends on the choice of goods, services, and burial plot. The goods and services for green burials are relatively inexpensive. For example, a biodegradable casket or shroud usually costs less than a conventional casket, which is often made of metal or varnished hardwood. Since there's no chemical embalming or concrete vault, several costs are eliminated. In addition, natural markers—or no markers at all—cost a lot less than traditional markers.
Green burial plots, though, can be more expensive than some traditional plots. That's because natural plots are usually larger, up to two times the size of traditional plots. In addition, more specific ongoing maintenance is required for unlined graves.
Helpful Forms
Biographical Questionnaire
Information about the decedent is needed to complete and file the death certificate, which is mandatory for all dispositions. You can fill out, print, and bring the questionnaire to the arrangement meeting, or you can fax or email it to us.
Designated Agent Form
A designated agent for funeral arrangements can authorize a cremation or a burial and is legally responsible for all financial payment as well. That person's name is written on the Designated Agent Form, and the declarant—meaning you—must sign, date, and have the document witnessed by an adult.